Shell Backpack

The modern day travel backpack


From 20L to 42L

A backpack and wardrobe system with unmatched versatility, easy access, and organization to pack up to 20% more.

Tap to discover the ecosystem:

Pack up to 20% more
An inbuilt wardrobe system that gives you minimum packing, maximum adventure.
Easy accessA hanging toiletry with Fidlock® magnetic attachments for easy accessibility.
Get messy, stay organizedA tech pouch with compartmentalized organization and accessible attachment.
Capture the moment
A durable Camera Cube with customizable dividers and optimized functionality.
It's all in the details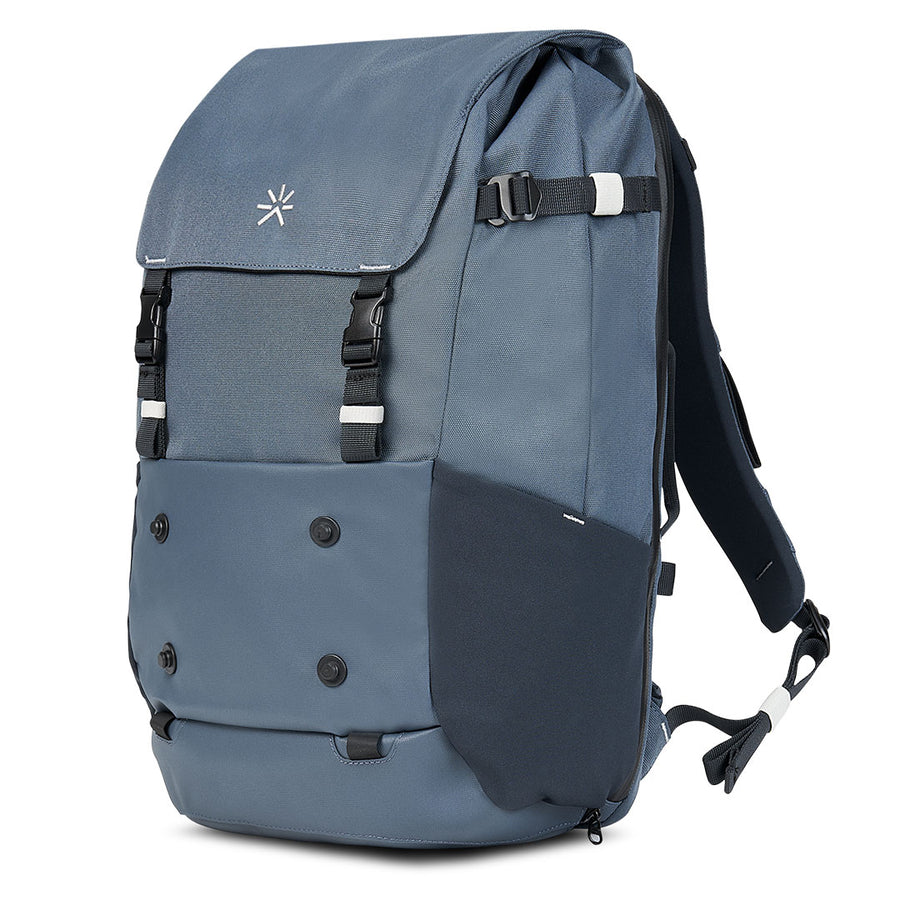 Frequently bought together
Adjusts to fit your needs

Shrink it. Expand it.

Shell's 3-in-1 adaptable design shifts between 20L to 42L.
That means you can unlock space when you're packing for your weekend trip and lock it back up when you're heading out for some day-time exploration.

*Accepted as carry on by most airlines up to 32,5L configuration.

Watch the product tour to see how it works

SMART PACKING SOLUTIONS

A new era of packing


Tropicfeel Wardrobe

Pack up to 20% more
A wardrobe system that lets you pack up to 20% more.
Remove it from the backpack, pack in your things, compress it down, seamlessly integrate it back in.

Watch our product tour to find out more.

How it works:
1
Pack

Pack your clothing into the organized compartments.

2
Compress

Reduce the size and volume by pulling on the adjustable straps. Seamlessly integrate it into the backpack.

3
Hang

When you reach your destination, decompress it, hang it and use it as a wardrobe.

Wet outside, dry inside
Weatherproof materials ensure your belongings are protected against the elements.

Comfort on the move
Ergonomically designed with a hidden hip belt, adjustable chest, and waist straps so you feel comfortable no matter the load.

Ultimate access. Optimized organization.
Accessories

Combine these specially designed accessories with the Shell backpack to obtain the ultimate daily-to-travel ecosystem, so you can be ready for any adventure, anywhere, anytime.

Choose one, two or three of them:

FidLock® Toiletry

Store personal items and attach securely to the front of Shell via a FidLock® magnet. Once locked on, it won't come off until you pull the security tab.


FidLock® Pouch

Store personal items and attach securely to the front of Shell via a FidLock® magnet. Once locked on, it won't come off until you pull the security tab.


Camera Cube

For professional or hobby photographers who are looking for durable, customizable and functional storage for their equipment. The cube can be used alone or integrated into our backpack.

Some questions you may have

The Shell backpack does not come with any accessories but can be purchased in a Shell combo. Its accessories can also be purchased separately.
All of the materials in the backpack have either DWR (Durable Water Repellent) treatment, PU coating, or both. This makes the backpack itself weatherproof & water repellent. During a day of heavy rain, it is possible that water could enter through the seams.
Here at Tropicfeel we always look for the most sustainable solutions for our products and their environment. Most of the main materials used on our Shell Backpack are 100% recycled materials, they are also made by factories with major certifications in this topic.
The best way to clean all of our backpacks is to wipe the inside and outside after each trip with a damp cloth and to air dry. We do not recommend fully submerging our backpacks in water. If the stain is hard and you need to use mild soap you may. However do not apply the soap directly onto the product, use a damp cloth to apply it. We always recommend non-toxic, environmentally friendly soap options.
This product is manufactured in Vietnam by one of our longest partnership manufacturers.
The main materials of the backpack and accessories are 100% Recycled Polyester Fabrics with DW finishes in both the lining & main materials.
Regular shipping usually takes from 2 to 7 business days. Delivery times and cost may vary according to the shipping option and destination.
We have warehouses in the US, UK & Germany. We do our very best to ship from the nearest warehouse, however, this is not guaranteed and depends on stock availability.
You can find more information here.
You will have 60 days from the delivery date to request an exchange or a refund. We need the item(s) to be in an unused condition, in their original state and packaging.
Exchanges: We offer free exchanges for all countries within 60 days from the point of delivery.
Returns: If you are not completely satisfied with your order, we offer a compensation within 60 days from the point of delivery, once it is validated. We will provide you with a partially paid postage label for your return during the process, if applicable.
For more information on shipping and return information, please visit our FAQ page here.
Customers who purchase orders outside of the European Union, in some cases, customs fees can be charged and it is the buyers responsibility to pay for any Import, Duty, VAT and Customs Fees that may apply for shipping to their country.
We do apologize for any inconvenience this may cause.