Lift 40L Rollerbag

Go the distance

The smart carry-on system

A versatile carry-on created with even the toughest of journeys in mind. Go from rollerbag to backpack in seconds. Experience next-level accessibility, organization and expansion. Durable and sustainable design so you can save space and seize the journey.

Cabin size: Keep calm, carry on
From rollerbag to backpack
Pack more in: From 40L to 52L
Measurements details:
Height x Width x  Depth: 55,2cm x 36cm x  x 22cm
Weight: 2.9kg

Stay organized
when you are away

Pack smarter, not harder, with the wardrobe system, roll-up toiletry bag and sealed laundry bag.

*Wardrobe works with Shell Backpack, Hive Backpack and Lift Rollerbag.

Tap to discover the ecosystem:

Frequently bought together
From rollerbag to backpack

Take on travel
with Flap Straps™

Adapt to any adventure:
Quick & seamless setup

Unbotton, pull out the straps and go from Rollerbag to backpack in seconds.

Comfort guaranteed

Foam backpanel ensures comfort when in carry mode.

Tuck away

Fold the straps into the backpanel pocket and keep rolling.

The perfect travel combo

Integrate the Nest backpack with Lift 40L Rollerbag for the ultimate 82L ecosystem.
Size up and seize the journey.

It's all in the detail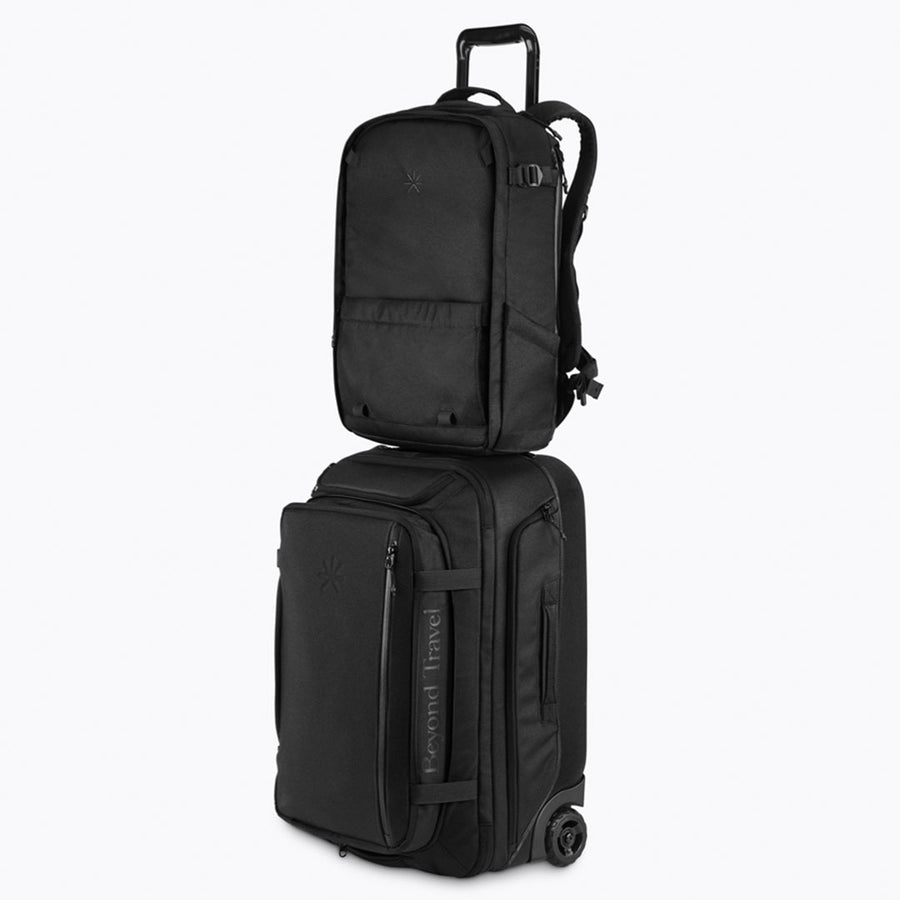 Available in 4 colorways:
Cabin size

Weatherproof

Adaptable top compartment

Security control friendly

Watch the product tour to see how it works

WARDROBE & SMART PACKING CUBE 12L

Smart Packing Solutions

A new era of packing has arrived.
Save space and pack smarter with these two:

- 1 -

Tropicfeel Wardrobe

Pack more, pack better
A wardrobe system that lets you pack up to 20% more. Remove it from the rollerbag, pack in your things, compress it down, seamlessly integrate it back in.

Watch the product tour to see how it works.

How it works:
1
Pack

Pack your clothing into the organized compartments.

2
Compress

Reduce the size and volume by pulling on the adjustable straps. Seamlessly integrate it into the rollerbag.

3
Hang

When you reach your destination, decompress it, hang it and use it as a wardrobe.

- 2 -

Smart packing cube 12L

Compress volume by 50%
Unlock Lift Rollerbag's full potential and save even more space the smart way with dual zip compression and optimized organization.
Use solo, or integrate it within the rollerbag.

Watch the product tour to see how it works.

How it works:
1
Organize

Use the organizational features to prepare your packing. Pack in up to 12L of additional items.

2
Compress

Use dual zipper compression to halve this volume and pack it in your rollerbag luggage.

3
Hang

Unzip and hang it when you reach your destination.

Roll-Up Toiletry bag

Store personal items and fold the toiletry bag into the top pocket of the rollerbag to keep everything safe and secure.  

Sealed Laundry bag

Store your used clothing items in a sealed bag that vaccum compresses to save space and contain odors.

Some questions you may have

Lift 40L Rollerbag is our first-ever luggage piece. The first product on our catalog that can be both rolled, but still be used as a backpack when rolling is not an option.It is basically a Suitcase designed through the same Tropicfeel design DNA, versatility to make Traveler's life easier.
The Lift Rollerbag does not come with any accessories but can be purchased in a Lift combo.
Its accessories can also be purchased separately.
At Tropicfeel we always strive to offer the most sustainable products possible. Up to 70% of the Lift 40L Rollerbag is made with recycled materials, this is a perfect balance between performance & recycled materials. We are happy to confirm that this product is also fully vegan, none of the materials used in this product is animal-based or related, and the entire production process meets all the terms to qualify as a vegan product.
If you are buying the wardrobe directly within the LIFT 40L campaign, you will receive the updated version of it. That means that it will have a rear upper lining flap that will easily able you to hang it from the extended handle. If you just bought the Roller bag and want to use an older Wardrobe you own from when you bought Shell or Hive, don't worry, we got you covered. Assuming you don't have the rear lining flap, you can still hang the wardrobe from Lift Roller Bag by using the top 38mm webbing w/ Hook and wrapping it around the top plastic part of the retracted handle.
The capacity of LIFT is 40L but can grow up to 52L thanks to its front expansions that allow the user to perfectly fit in the expansion of the 12L Smart Packing Cube. It is a Carry-On size following the standard size for cabin luggage, or at least the most common ones. Fitting most of the Airlines even when expanded (25 cm depth). Please be sure to check the requirements of your airline as they may differ.
Thanks to its Hybrid construction, Lift offers the perfect balance between high-density EVA foam blended with high-quality fabrics that will give the perfect protection to your belonging while keeping weight down. Also, the front panel is fully padded with the same EVA quality to keep your laptop protected for your upcoming journeys. We made it our mission to pick high-end hardware for our Roller Bag with one of our well-known suppliers based in Vietnam. In addition, the wheels can be easily disassembled and repaired with an Allen wrench if needed.
Yes, you can easily use it as a backpack as well. Thanks to its thermoformed back panel, you will still have the comfort & length adjustment of a backpack. From our design perspective, we included this feature when rolling it's not an option, that's why you won't find features from proper hiking backpacks such as sternum straps, hip belts, or heavily padded shoulder straps. The key to this feature was to find the perfect balance between function & space optimization. The thinner the better, but without compromising its function.
If you bought a wardrobe before 2023 separately or together with Shell or Hive backpack it will fit Lift 40L Rollerbag in terms of dimensions but unfortunately, it won't have the full integration with Lift Rollerbag's top handle. Instead, it can also be integrated by fastening the loop handle, to the top handle of the Lift 40L Roller bag. You can still order the upgraded wardrobe with your lift preorder for more seamless integration.
The Roll-Up Toiletry Bag comes with a mirror. First, you will need to remove the toiletry pouch which is attached with velcro, then you will need to remove the protection film on the mirror so that it can be used. 
The lining material used on LIFT 40L Rollerbag has a PU backing together with a Water repellent C6 finish that assures its resistance to water & humidity.
To excel with the material performance, we created these side pockets with a Seamless construction, meaning there are no thread punctures on the material that will affect its water resistance.
The best way to clean all our items is wipe out the inside and outside of the Rollerbag after each trip with a damp cloth. Then let it air dry. We do not recommend fully submerging the rollerbag in water.
If the stain is hard and you need soap: Yes, you can use mild-soap in your damp cloth, do not apply it directly to the product. We always recommend non-toxic, environmentally friendly soap options.
Regular shipping usually takes from 2 to 7 business days. Delivery times and cost may vary according to the shipping option and destination.
We have warehouses in the US, UK & Germany. We do our very best to ship from the nearest warehouse, however, this is not guaranteed and depends on stock availability.
You can find more information here.
You will have 60 days from the delivery date to request an exchange or a refund. We need the item(s) to be in an unused condition, in their original state and packaging.
Exchanges: We offer free exchanges for all countries within 60 days from the point of delivery.
Returns: If you are not completely satisfied with your order, we offer a compensation within 60 days from the point of delivery, once it is validated. We will provide you with a partially paid postage label for your return during the process, if applicable.
For more information on shipping and return information, please visit our FAQ page here.