Shelter 30-66L Backpack

The Limitless Travel Backpack

Tap to discover the ecosystem:

Pack up to 20% moreAn inbuilt wardrobe system that gives you minimum packing, maximum adventure.
Daily use backpack12L waterproof backpack perfect to use as a carry-on when taking a flight or for small getaways within a long trip.
Seamless travelA cocoon rainfly that goes from waterproof protection into full cocoon coverage to tuck in straps for easy airport check-ins.
Everyday-carry essential
Keeps you organized on the move with 2L of extra storage. Features mesh pockets and zipped pockets for smaller items.
Easy accessA small roll-up toiletry bag with pockets, a hidden mirror and detachable liquid pouch. Un-wrap and hang up to see all your personal belongings easily.
Keep freshA sealed bag that separates your laundry and vacuum compresses to save space.
It's all in the detail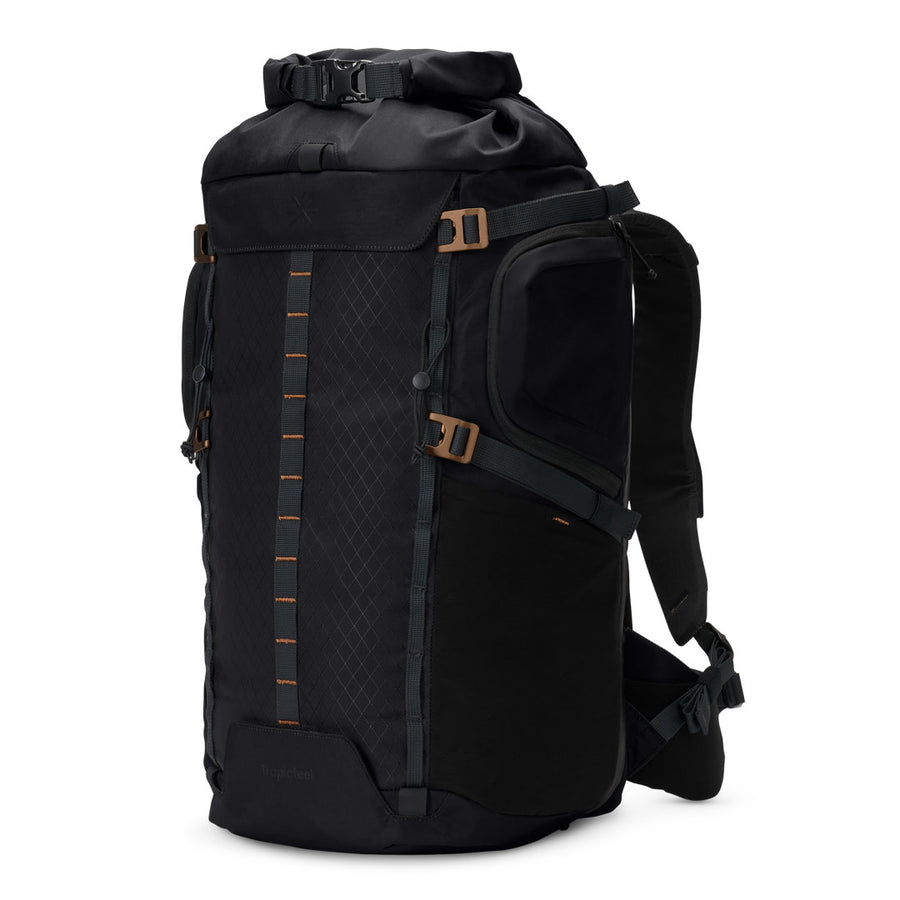 Expand. Adapt. Explore.

Expand the backpack main body from 30L to 54L and up to 66L with the full ecosystem to adapt to your travels.

One backpack, infinite configurations

No adventure is too big, or small

Watch the product tour to see how it works

How it works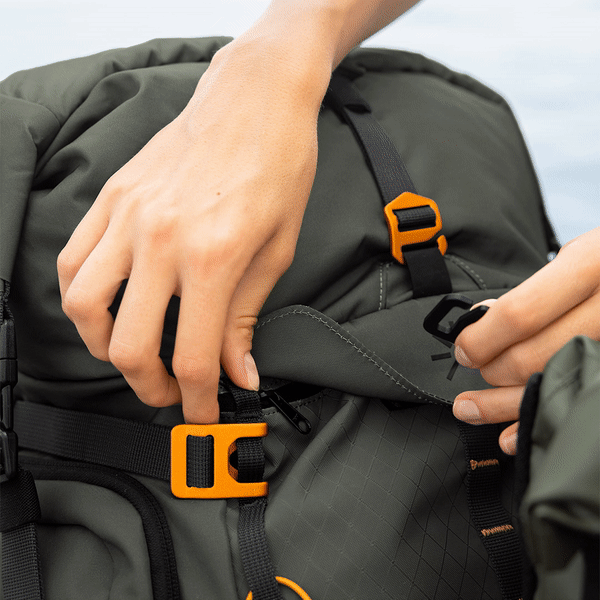 1. Hook
Detach the hooks at the top and bottom of the daypack and Shelter 30-66L Backpack.

2. Strap
Pull out straps from the pocket behind the thermoformed back panel of the daypack.

3. Adventure
Use it for your everyday wet or dry adventures & commutes.

How it works
1. Pack
Pack your clothing into the organized compartments.

2. Compress
Reduce the size and volume by pulling on the adjustable straps. Seamlessly integrate it into the backpack.

3. Hang
When you reach your destination, decompress it, hang it and use it as a wardrobe.

Whatever it is, there's a place for it.

ProTravel™ Tested

Tested against the unexpected by Tropicfeel's traveler community

Comfort on the move
Ergonomically engineered so you feel comfortable no matter the load.

Wet outside, dry inside
Weatherproof materials along with the Cocoon Rainfly ensure your belongings are protected against the elements.

Be spontaneous, we've got you covered
Performance details integrated within the backpack so you can keep adventuring.

Ready to Grow

Traveling over 10.000km to cook this dish

Roll-Up Toiletry bag

Store personal items and fold the toiletry bag into the top pocket of the backpack to keep everything safe and secure.

Sealed Laundry bag

Store your used clothing items in a sealed bag that vaccum compresses to save space and contain odors.

WATERPROOF DAYPACK

Watch the product tour to see how it works

Updates & some questions you may have

This product is unisize. It's not as tall as our other backpacks and is more focused on hiking, so torso length adjustment is not needed. We can achieve accurate and comfortable fitment due to the hip belt, sternum straps, offload and shoulder straps and adjustable buckles. 
The Shelter backpack does not come with any accessories but can be purchased in a Shelter combo.
Its accessories can also be purchased separately.
The best way to clean our backpacks is to wipe the inside and outside after each trip with a damp cloth, then let it air dry. We do not recommend fully submerging our backpacks in water. If the stain is hard and you need soap, you can use mild soap on your damp cloth, however, do not apply it directly to the product. We always recommend non-toxic, environmentally friendly soap options.
At Tropicfeel, we always seek the most sustainable solutions for our products and their environment. Major parts of the main materials are made from 100% recycled materials & are made by factories with major certifications in this topic.
Yes, none of the materials used in this product are animal based or related.
This product is manufactured in Vietnam by one of our longest-partnership manufacturers.
All of the materials used on the backpack either have DWR (Durable Water Repellent) treatment, PU coating, or both. This makes the backpack itself water-repellent and during a day of heavy rain, water could penetrate through the seams. However, when the cocoon rainfly (cover) is used the backpack will be waterproof if used correctly. The waterproof daypack is 100% waterproof if sealed correctly.
The Shelter has more of an outdoorsy and technical look and is more expandable. It's our most technical backpack yet with a wide range of useful accessories to uprise its adaptability in every situation. There is no adventure big enough & you'll be sheltered in any situation.
The main materials on this backpack are made from 40% Recycled Polyester Fabric. The lining is made from 100% Recycled Poly with DWR finishes in both the lining & the main materials.
The Roll-Up Toiletry Bag comes with a mirror. First, you will need to remove the toiletry pouch which is attached with velcro, then you will need to remove the protection film on the mirror so that it can be used. 
Regular shipping usually takes from 2 to 7 business days. Delivery times and cost may vary according to the shipping option and destination.
We have warehouses in the US, UK & Germany. We do our very best to ship from the nearest warehouse, however, this is not guaranteed and depends on stock availability.
You can find more information here.
You will have 30 days from the delivery date to request an exchange or a refund. We need the item(s) to be in an unused condition, in their original state and packaging.
Exchanges: We offer 1 free exchange per order within 30 days from the point of delivery.
Returns: We offer a refund within 30 days from the point of delivery and we will provide you with a postage label for your return during the process.
Please find the cost of the returns per country below:
EU (excluding DE&NL), UK, USA:  €7.90
DE, NL:  €9.90
CANADA, SWITZERLAND: €20
AU, HK, UAE, JP, SG: €25