The most comfortable packable backpack

A functional backpack designed to be with you on any adventure, to help you in your everyday life. So lightweight you will always pack it with you, and so versatile you will always find a use for it. Made with 100% recycled nylon and polyester.
After three successful crowdfunding campaigns we are back, to define and lead the way of the sustainable business model this planet deserves.
Creators of 2 record breaking Kickstarter campaigns. Now on our own site!
Forget you are carrying it, remember it's there for you. Daily or travel, always be ready.
Save space, collect memories

Folds into its own pocket, weighting only 315 gr.
Feels like wearing nothing

Finally packable meets comfort
Don't leave anything behind

With superior organization and +10 travel features
Keep safe what needs to be safe

Weatherproof materials with water resistant coating.
Made with 100% recycled materials

Minimal impact on the planet maximum impact on your adventures
---
The evolution of an essential

How our community perfected our products
ID Lab allows us to listen to our community's feedback through product surveys. By asking an array of questions relating to the design and development of our product, we gain a better understanding of what exactly it is our community wants, enabling us to create and produce the most beneficial gear.
---
Details that make a difference

The new Cruiser backpack is designed to stand out
Multi Sizing (17-23l.) roll top with dual closing way

Front pocket with dual compartment
---
---
Upgraded and improved features
---
Sustainability is not an option to us.
At tropicfeel, we believe that sustainability is a responsibility, not an opportunity. Our Cruiser packable backpack is made from 100% recycled nylon, by reusing nylon materials, such as clothing. Additionally, we use 100% recycled polyester, in which we reconvert plastic bottles into a fabric, using between 7-8 bottles per yard of material. Waste not, what not!
Rip Stop Fabric Structure
Designed to resist, draws structures on the surface using thicker threads for extra strength to avoid the ripping of the material.
Lava XL targets and defeats bad odors also self re-generates, meaning your shoes stay fresher, for longer, no matter what you're doing.
We performed the rigorous Martindale test during the creation of Cala. In this test, the shoe is scratched several times to test the abrasion. Usually, this test stops at the 25k mark, with Cala, it withstood 102,400 cycles of the test.
---
---
What our clients say about us
"Amazing product! After use the Tropic shoes for two weeks during my honeymoon trip in Hawaii I'm more than satisfied. I encourage all of you to try the product. Excellent purchasing experience and outstanding costumer service. Good job guys!!"

"My favorite sneakers since I bought them, as became my favorite shoes. Very comfy, very easy to combine with any outfit and very lightweight. Fast delivery, good quality and very comfortable. Wishing to see what else I would get from Tropicfeel"

"I bought my Tropic almost a year ago and carried them on my 5 months trip, they are just amazing! Exceed by far my expectations! Looking forward to get my new pair and keep having great experiences with them!"

"I love tropicfeel! They're one of the most comfortable shoes I've ever had. And the best part is that they're sustainable, made with recycled bottles. good for the environment. I absolutely recommend the brand."

---
---
Select your color using the sticky bar under the screen

Frequently Asked Questions
We believe in the power of collaboration to accomplish this initiative. We bring together a community for a great cause through a new product.
Why should I back this product?
Exclusiveness.

Cheaper prices.

Being part of a great movement and campaign.

You are helping to protect the planet. We optimize stock management reducing overstock and CO2 transport footprint.
How does crowdfunding work?
On crowdfunding Campaigns, you have a tested product with a monetary goal, and if we don't reach the target we won't produce the product.

The community purchases the product, with the best prices, to help achieve this goal.

Once this campaign closes and we have successfully reached the goal we begin with the production and shipping process.

Backpack is delivered.
What is your commitment to sustainability?
The fabric of the Cruiser backpack is made from recycled nylon. This fabric is repurposed from old pieces of nylon material, such as clothing, and given a new life by being used in the creation of Cruiser.
Once your order has been shipped from our warehouse, you will receive a tracking link via email.
What's your Shipping Policy?
If our shipping carrier attempts delivery to you and the package returns to our warehouse (either because you're not there, the wrong address was provided or you moved without telling us), it will be the buyer's responsibility to pay the shipping fee to reship the order. When you receive your tracking number, please keep an eye out for the package.
Who is responsible for International Import, Duty, VAT and Customs Fees?
It will be the buyer responsibility to pay for any Import, Duty, VAT, and Customs Fees that may apply for the shipping to their country. We apologize for any inconvenience this may cause.
We offer you two options! Store credit or refund.
HOW DOES IT WORK?
Store Credit
We want to offer you store credit! With this, you can either choose the correct size or model you expected or get a brand new product in the future. We are getting ready to become the travel brand of the year! You have 30 days to get it from the day you received the delivery.
Positive things about this!
Take your time to decide! No expiration date

Access to amazing new products

You can gift Tropicfeel to your loved ones!
Refund
You can ask for a refund and you will receive the funds in a few days

For both cases, we need the tracking number the courier gives you when you send the items back to accept your return.
How do I proceed with my return?
HOW TO PROCEED?
Prepare your package to be sent to one of our warehouses.
To prepare your package for the return, it must meet the following conditions before being shipped out:
Brand new, in original condition

Shipped in a box - we encourage reuse of the original one.

Introduce the Delivery Note in the package
Send your original package to one of our warehouses and keep the tracking number that your selected courier has given you! You will not be able to go ta step 3 until you send the package and you have the tracking number.
France
ADS Evreux (Retours BIG)
ZAC Multi-site Long Buisson
Rue Rolland Garros
27930 GUICHAINVILLE
France
Hong Kong
U- Freight Logistics (HK) Ltd.
Ground floor, Chuan Kei Factory Building,
No. 15-23 Kin Hong Street,
Kwai Chung, N.T.
Hong Kong
USA
U-Freight America, Inc
16000 Phoenix Drive, City of Industry
California 91745
United States
Great! You are almost there! Once you have sent the product back to us, it is time to proceed with your return! Remember that you will not be able to continue with your return if you do not have the tracking number that proves you sent the package back to us.


PROCEED WITH MY RETURN

If something is not clear or you still need help? Don't hesitate to reach out to us support@tropicfeel.com
Is this backpack waterproof?
Waterproof means that it can be immersed in water during a period of time, we don't recommend you try to put the backpack underwater, however, it's a water repellent product. It protects the items inside the backpack from rain, sweating, etc. The fabric is treated to repel the water and also has a thin interior membrane.
Yes of course! There is a compartment for it on the interior of the back suitable up to 17" inch approximately. However, this is a lightweight backpack, if you want to secure your laptop use a case for it.
Is the backpack packable?
Yes! The inner pocket has a double function, to organize small things, and also it's a reversible pocket where you can pack it!
Is as packable as the previous Cruiser?
It's smaller than the average packable bags, but unfortunately not as small as the previous Cruiser. However, we definitely have upgraded this backpack to your daily life routine in many ways, starting with comfort.
Which is the capacity of this backpack?
The capacity is from 17-23l.
You can roll the backpack when you close it, so the capacity will adapt to your needs.
Which is the weight of the backpack?
Considering it is treated to be water repellent we recommend the cleaning with a wet cloth and a bit of soap IF it's needed (non-toxic, biodegradable types preferred).
Why cruiser 2.0 is more comfy than 1.0?

The materials used on the back give extra comfort thanks to the foam and the spacer mesh and combined with a more established rectangle pattern shape, the back stability is perfect.
Why is the main fabric more resistant?

The nylon fibers are by themselves more strength than polyester. On the other hand, the ripstop fabric structure draws structures on the surface using thicker threads that gives more strength than a plain texture.
Structure and composition get you a good lightweight resistant fabric for this backpack.
Can you compare your backpack to other brands?

We believe we have an excellent product thanks to the balance between comfort, packability, and practicality for daily use.
Didn't find what you are looking for?
Click on the little speech bubble on the right hand side of your screen to speak to one of our assistants using live chat! If this is unavailable please feel free to contact us at support@tropicfeel.com.
#3 Update: Shipment Starts Today! 🚀
The day has finally arrived! Your Cruiser Packable Backpacks are now ready to go, with the first shipments leaving the warehouse today!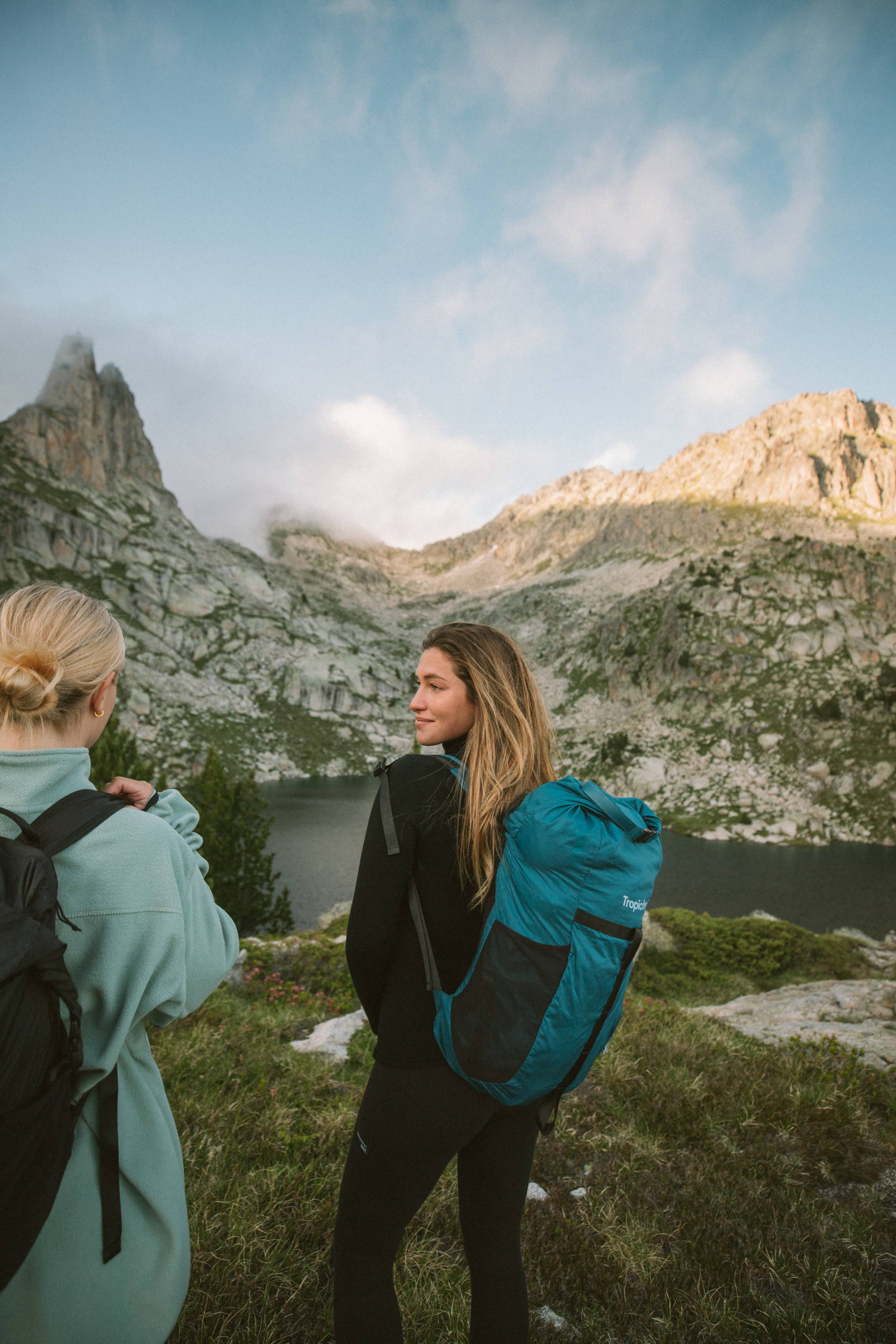 Keep an eye out in the next couple of days for an email with some tracking information so you can expect when your order will arrive.
---
Thanks everyone, stay tuned for the next update!
---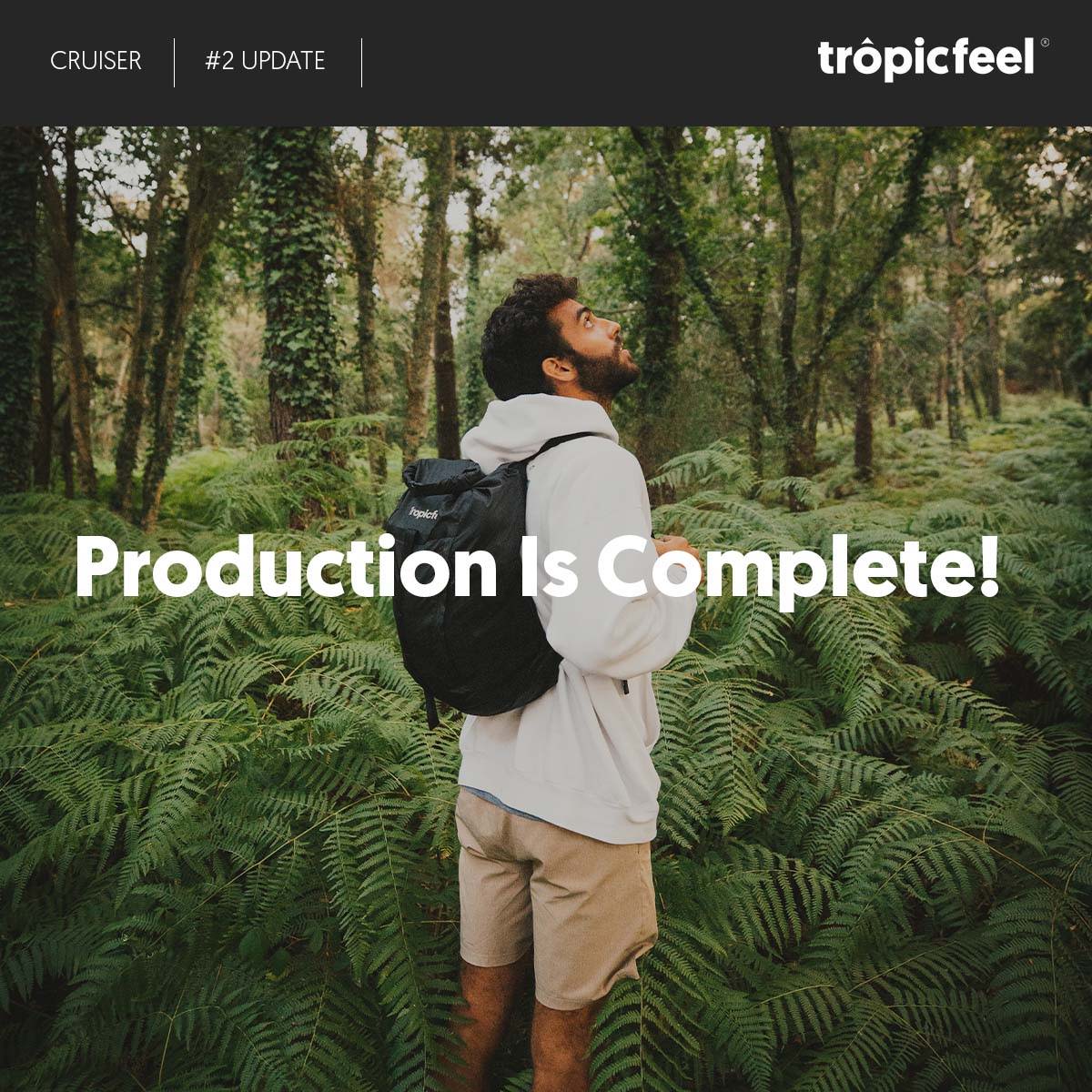 The Production of The New Cruiser is Finished!
Great news! The production of your brand new Cruiser Packable Backpack is now 100% complete, and we're happy to report everything went smoothly.
Our last update we spoke about having over 500 backers, and now, over 1700 of you have backed the campaign! Thank you everyone for helping turn this idea into a reality.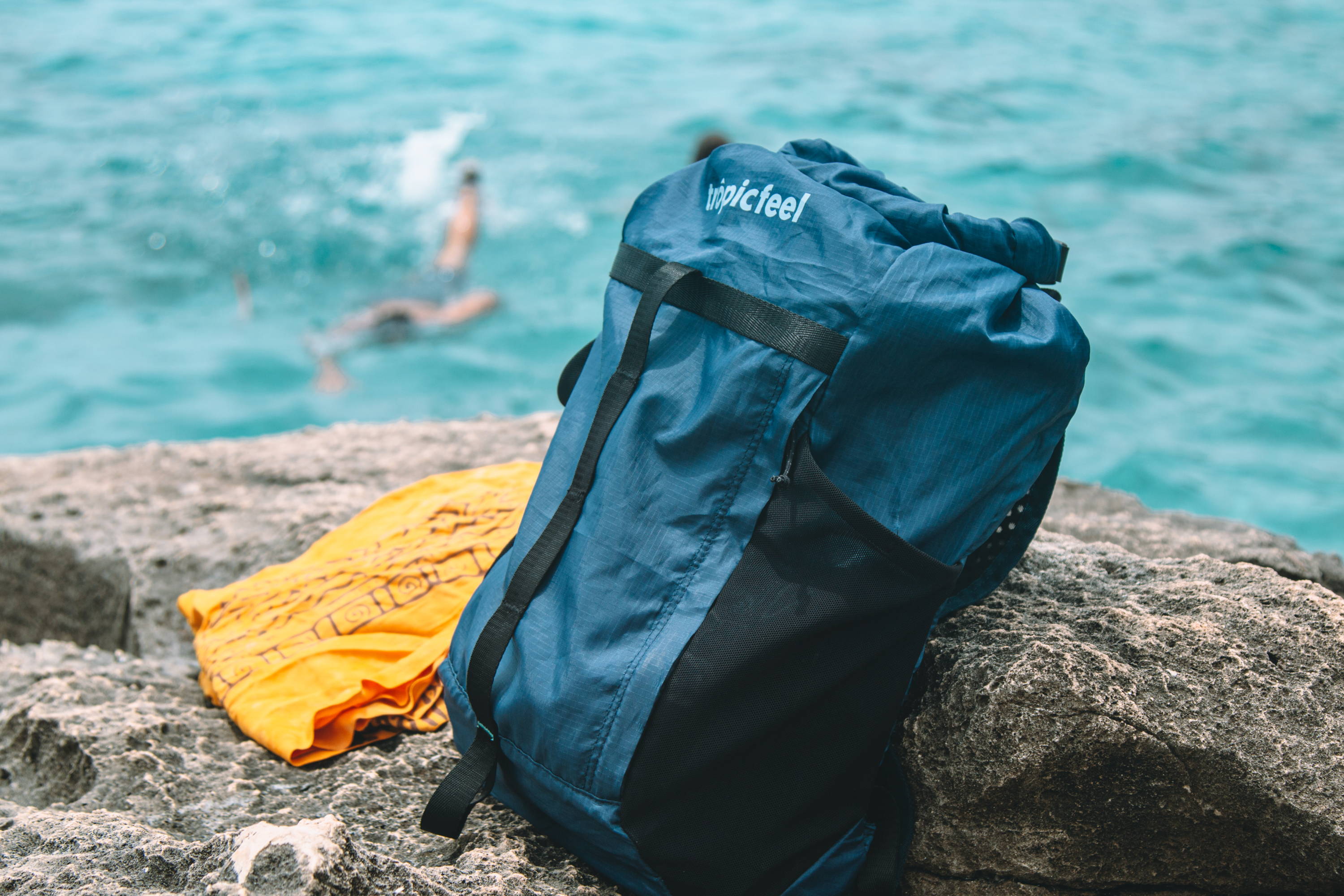 The next step is to move everything over from the manufacturing location over to the warehouse to prep them for shipment!
---
Thanks everyone, stay tuned for the next update!
---
#1 Update: That was quick! 🎉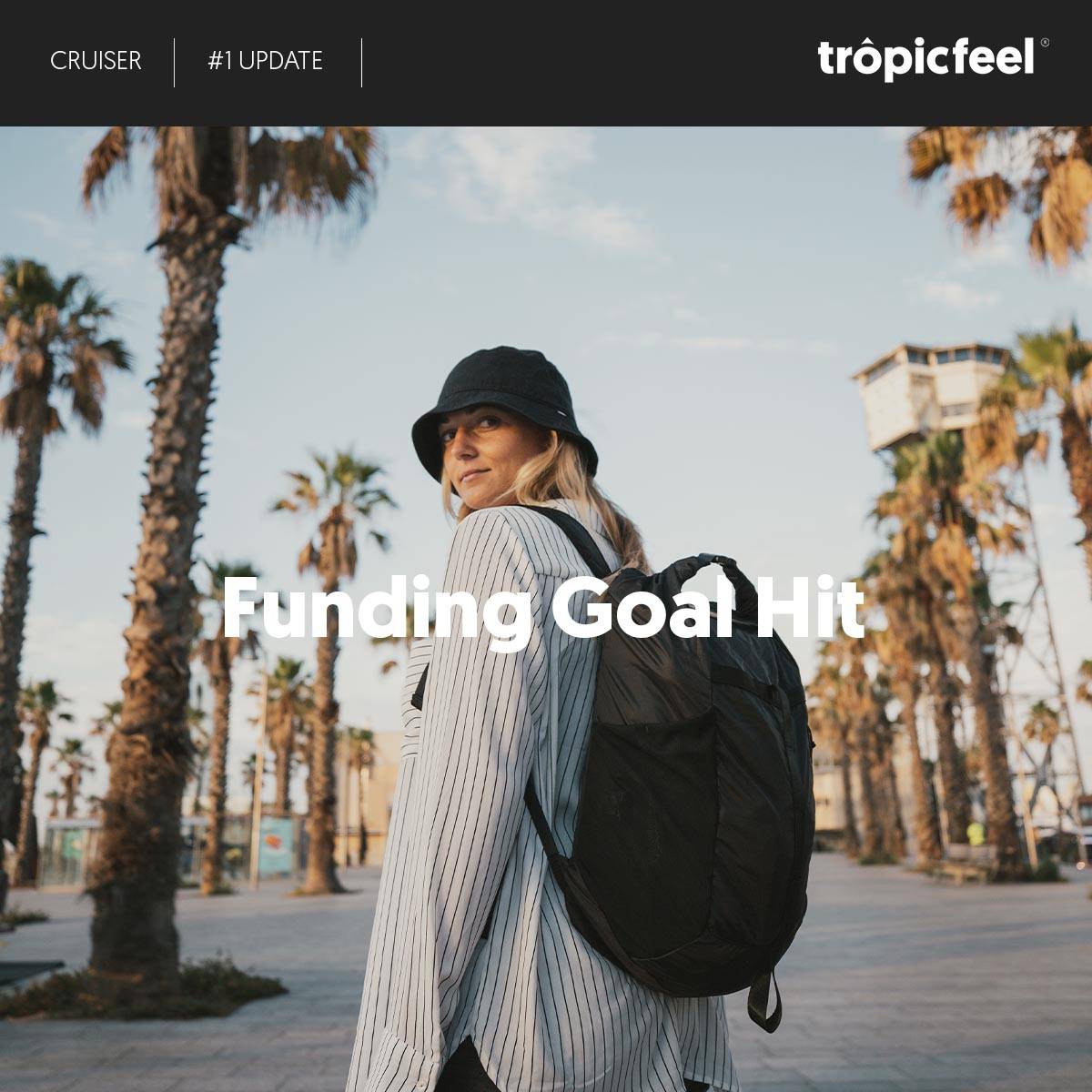 We've hit our funding goal!
And just like that, in less than 12 hours we have already smashed the 15 day target to reach the 15.000€ funding goal for Cruiser with over 500 backers! THANK YOU to everyone who has participated in this crowdfunding campaign so far.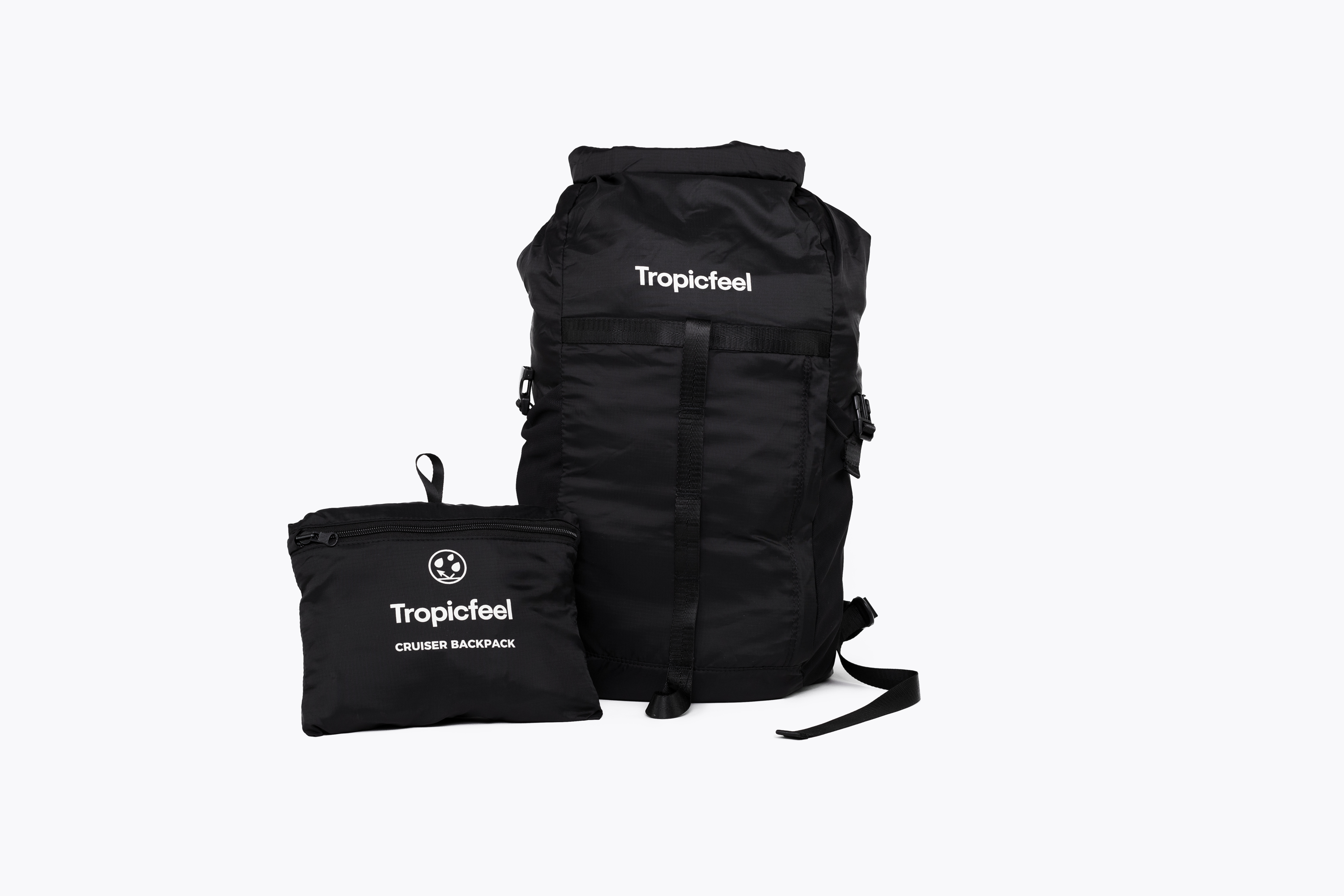 We are now ready to get things moving and will keep you in the loop with regular updates on our progress!
---
Thanks everyone, stay tuned for the next update!
---